จุดเด่นผลิตภัณฑ์
เซ็นเซอร์ Exmor R BSI CMOS ฟูลเฟรม 61MP
หน่วยประมวลผล BIONZ XR และ AI
ระบบ AF ติดตามเรียลไทม์บน AI
วิดีโอ 8K 24p, 4K 60p, FHD 120p 10-Bit
Rawเอาต์พุต 4K 16 บิต; S-Log3/S-Cinetone
EVF 9.44m-Dot พร้อมอัตราการรีเฟรช 120 fps
จอ LCD 3.2″ แบบทัชสกรีน 4-Axis
การถ่ายภาพต่อเนื่อง 10 fps พร้อมการติดตาม AF/AE
ระบบป้องกันภาพสั่นไหว 5 แกน 8 สต็อป
ช่องเสียบการ์ด คู่ CFexpress Type A/SD
What's new?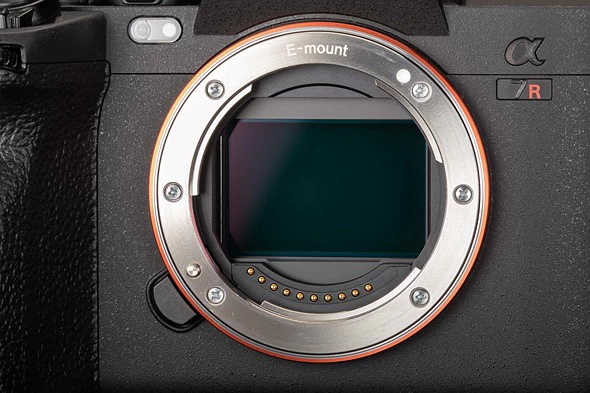 The Sony a7R V is built around the same 60MP BSI CMOS full-frame sensor as the Mark IV was, but Sony says the new processor allows it to use the full extent of the sensor's capabilities in a way the previous generation camera couldn't. The company wouldn't be any more specific in its claim, making it difficult to assess.
Whatever's being done, the a7R V is able to offer a wider range of capabilities than the existing camera.
Bionz XR processors
Much of what the a7R V offers over its predecessor stems from the more powerful processors in the new camera. They bring a series of functions, as well as a much improved menu system. Sony also talks of a processor dedicated to crunching the complex AI-trained algorithms used for focus, exposure and white balance.
Enhanced AF
The new processor brings the power to significantly enhance the camera's subject recognition capabilities. The a7R IV had the ability to recognize and prioritize people, their faces and eyes, but the V takes this much further. It gains a system designed to better recognize human subjects but also trained to recognize a wide range of non-human subject types.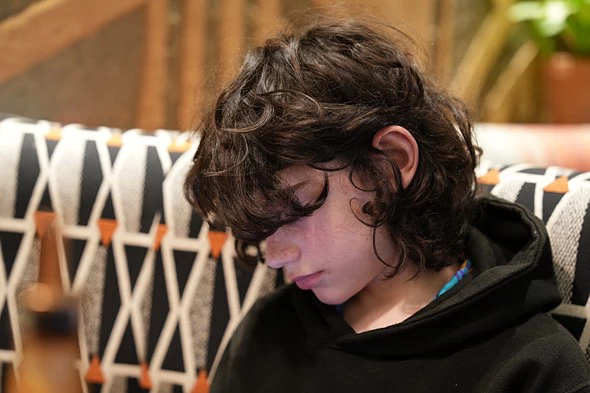 The Human recognition system has been trained to recognize a wide selection of body parts so that it can identify bodies in a complex variety of poses, to make the tracking of your chosen individual more robust. In this instance the camera has found the subject's eye, even though it's not really visible.
Sony FE 24-70mm F2.8 GM II @ 70mm | F2.8 | 1/60 sec | ISO 2000
Photo: Richard Butler
The camera's AF system will recognize Humans, Animals, Birds, Insects, Cars & Trains, and Aircraft. Interestingly, there are separate modes for Animals and Birds as well as a combined Animal/Bird option. Your subject type can be selected from the main menu, the Fn menu or a custom button. The list of subjects accessed via a custom button can be tailored to only include the modes you use.
Each individual recognition mode has a series of parameters that can be modified, with control over how far from your chosen AF point the camera will search for a subject, how willing it is to refocus to other subjects, and how sensitive or tolerant the actual recognition will be. On top of this is a choice of whether the camera focuses on Eye/Head/Body, just Eye/Head or just Eyes, for humans, animals or birds.
It's a frankly dizzying number of options, but presumably most photographers will only depend on one or two of the recognition modes and hence will only need to spend the time fine-tuning the way the camera reacts to their chosen subject(s). All detection subjects are available in both stills and video modes.
Improved stabilization
More processing power and more sophisticated algorithms offer a significant boost to the camera's in-body stabilization system, helping it deliver a rating of 8.0EV in industry standard tests. This has been achieved without combining in-body and in-lens stabilization, as many other brands do (Sony's system uses either in-body or in-lens movement for each axis of correction: never both together). This should mean the higher performance is maintained with non-IS lenses.
As always, IS tests conducted using the CIPA methodology are somewhat simplistic and can significantly over-state the real-world effect, but such a high rating is only likely to be achieved in a system that works well in practice, even if you don't necessarily experience a full eight stops of benefit.
Small Raws
The a7R V offers a broader range of Raw file sizes, for circumstances in which large numbers of 60MP full-detail Raws would be overwhelming. In addition to the full, Uncompressed option, the camera can shoot Large, Medium or Small Lossless Compressed files. There's also the option of Sony's (slightly) damagingly lossy 'Compressed' Raw.
Medium and Small Raw files are downsampled versions of the full image. There's also the option to capture cropped APS-C Raws
The Medium and Small Raw files are 26MP and 15MP downsampled versions of the full image (so are presumably tonally lossless, not entirely spatially lossless), which should have more detail than images shot with 26 or 15MP cameras. There's also the option to capture cropped APS-C 26MP images (or downsampled 15MP versions of this crop).
Multi-shot high resolution mode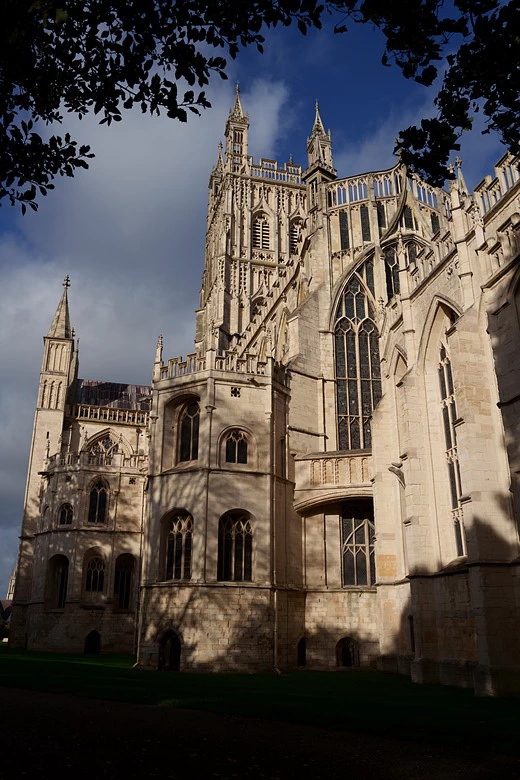 16-shot Pixel Shift High-Res image, combined using a beta of Sony's Imaging Edge suite of software. The motion correction option has done a good job of correcting the foliage blowing around at the top of the image. Slight camera movement means this image doesn't show the mode's full potential.
With thanks to London Camera Exchange (Gloucester) for the use of a tripod.
Sony FE 28-70mm F2.8 GM II @ 28mm | F9.0 | 1/400 sec | ISO 100
Photo: Richard Butler
As the 'R' is the company's high-resolution model, it offers a tripod-based multi-shot pixel-shift high resolution mode. This offers a four-shot mode that captures red, green and blue information for every output pixel location, giving greater chroma resolution and avoiding the softening effects of demosaicing Bayer images. There's also a 16-shot mode that shoots four Bayer-cancelling quartets of images at slight offsets, relative to one another, to boost the overall capture resolution to 240MP.
Both these modes require that the images be combined in Sony's Imaging Edge Desktop software, the latest version of which detects subject movement between images, and corrects for this motion. It's performed well with the less-than-perfectly-steady examples we've tested it with.
Focus bracketing
The a7R V becomes the first Sony to have a focus bracketing function built-in. It's selected as a Drive mode and you can select the 'step-width' between the different focus distances and the number of shots it takes (up to 299). In the menus you can choose whether the camera continues to focus further beyond the current point or whether it focuses both nearer and farther than the current point. Exposure smoothing, exposure delay to allow flash recycling and the option to save bracketed images to a separate folder are also options.
As with the pixel-shift mode, if you wish to stack and combine a set of focus bracketed images, you'll need to use Imaging Edge Desktop.
Faster Wi-Fi
The a7R V's Wi-Fi now offers 2 x 2 MIMO (multiple in, multiple out) compatibility. This means it should be able to use parallel channels of communication to other MIMO devices. This helps the camera deliver wireless tethering despite its large file sizes. The Wi-Fi can still be used for sending and receiving files to smartphones and it worked well for us using the current version of the Imaging Edge Android app.
Continuous shooting with flash
The a7R V can shoot at up to 10fps in JPEG or lossy Compressed Raw modes, with the rate dropping to around 7fps in the higher quality Raw modes. The buffer allows for up to 583 Compressed Raw files. With compatible flashes it can use its P-TTL flash metering at this highest burst rate. Flash users will appreciate the camera's ability to record separate ISO and shutter speed settings when a strobe is in use, making it easy to switch back and forth between natural light shooting.
The shutter is rated to last for 500,000 actuations, but a maximum sync speed of 1/250 sec suggests it's not the same mechanism as the one used in the a1.
In addition there are anti-flicker modes that sync the shutter to the bright point in conventional lighting, and a mode that allows tiny factional shutter speed adjustments for use with high-frequency flicker that you might experience with LED lighting.
10-bit video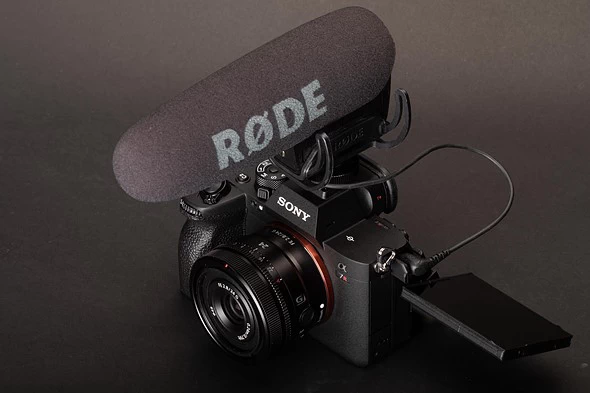 As with the other cameras built around the Bionz XR processors, the a7R V is able to capture 10-bit video, which helps deliver much more flexible Log footage or high dynamic range 'HLG' footage.
The a7R V can capture UHD 8K video at up to 25p from a 1.24x cropped region of its sensor, capturing native 7860 x 4320 pixel footage. Alternatively it can record UHD 4K footage at up to 30p from its full sensor width. There's also the option to capture 4K at up to 60p from the 8K region of the sensor or 6.2K oversampled 4K from the APS-C / Super35 region of the sensor.
There's significant rolling shutter in 8K mode and in the oversampled APS-C 4K modes. It's a little better in the camera's full-width 4K modes but it's only really in the cropped 4K/60p setting that we'd consider it well controlled.
The camera has the same heat-dissipation technology as the a7S III, in this case allowing it to record 30 minutes of 8K if the temperature limits are relaxed.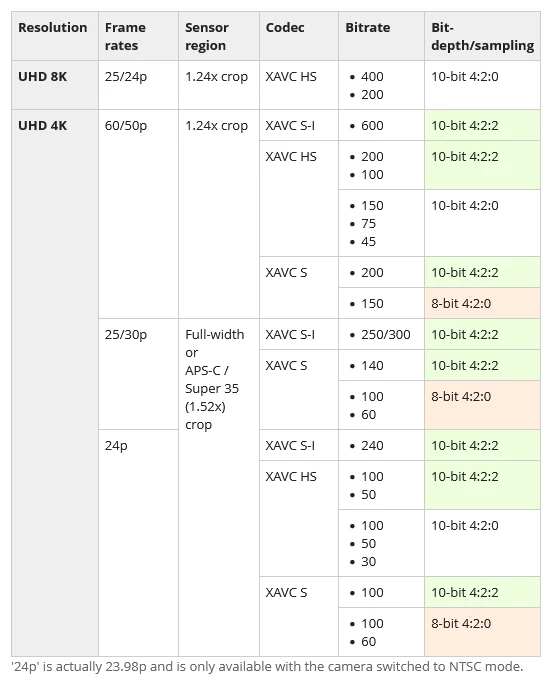 Like the a7S III and FX models, you get a choice of XAVC formats for capture. XAVC S and S-I provide Long-GOP or All-I H.264 options, while the XAVC HS mode uses H.265 compression. The near-final S-Cinetone profile or S-Log3 profiles are available, along with 10-bit HLG capture for playback on HDR displays.
Active SteadyShot mode, which adds electronic stabilization – using a constantly changing region of the sensor to provide a greater magnitude of shake correction – is available up to 4K/60 mode, and adds a further 1.16x crop (1.09x additional crop in APS-C mode).
The a7R V also records the camera's gyro data as you're shooting, allowing digital correction to be applied to footage (including 8K capture) using the company's Catalyst software.
The camera includes the other video features introduced in recent Sony cameras, including the Focus Map display, Breathing Compensation and option to add shot marks as you record. A '16-bit' Raw video stream can be output over HDMI for capture as ProRes RAW by an Atomos Ninja V or V+.
How it compares
The Sony's most direct rival is Canon's excellent EOS R5, while Panasonic's S1R and Nikon's Z7 II also aim to satisfy the high-end, high-resolution niche. But perhaps its greatest competition is likely to come from its predecessor, either in the form of existing users pondering whether to upgrade or if Sony follows its usual pattern of continuing to offer its existing model at a lower price.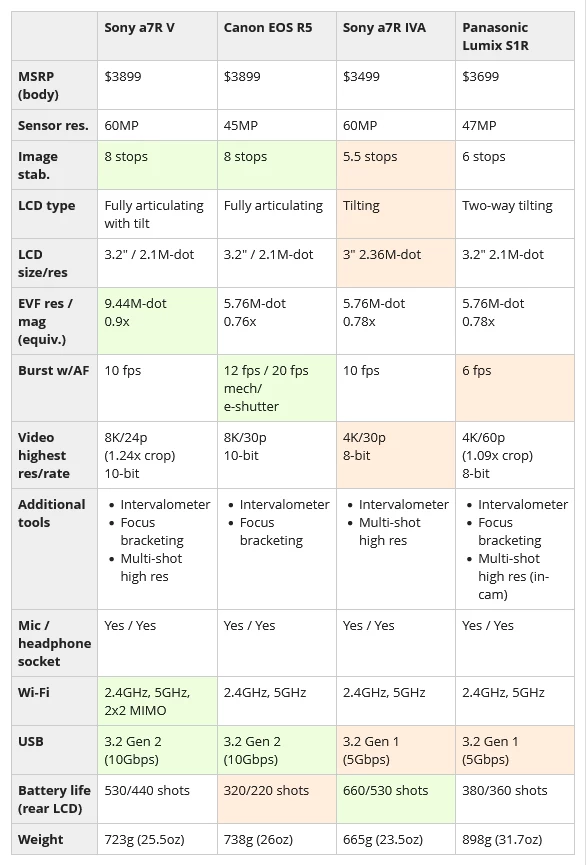 The specs put the a7R V squarely on par with the Canon, but with greater resolution, battery life and a more flexible screen. But it's the comparison with its predecessor that matters most to anyone already invested in the system. The new camera is faster in every way (including its Wi-Fi and USB connections), has the company's most advanced AF yet as well as the expected upgrades such as a nicer viewfinder.
A spec table can't convey how much more sophisticated (and complex) the new camera's autofocus system is, but neither does it convey that the video capabilities may not prove quite as impressive as the numbers make them look, depending on your tolerance for rolling shutter.
Body and controls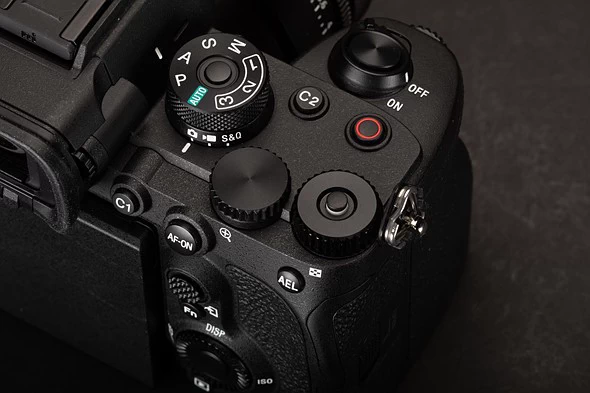 The a7R V uses a body that's very similar to that of the a7S III, which is itself an evolution of the a7R IV's body. That means the buttons and dials will all be in fairly familiar places for existing users, but there have been a few enhancements along the way. As you'd expect of a camera at this level it has a magnesium alloy case that's designed to be dust and moisture resistant.
The camera's grip and dials are very, very similar to those of its predecessor, but the [REC] button has swapped places with one of the numbered Custom buttons so that it now sits on the camera's top plate, just behind the shutter button.
On the front of the camera you can see the pale white circle of the camera's white balance sensor, used to help give less jumpy Auto White Balance performance, particularly in video mode.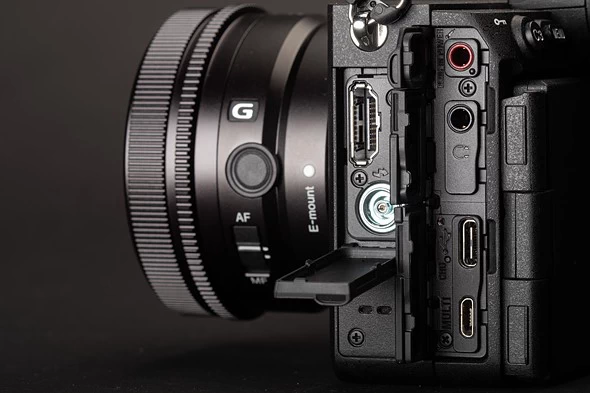 Look at the ports and you'll find it still has the flash sync terminal offered by the a7R IV, but now joined by the full-sized HDMI port of the a7S III. The USB C port has also been upgraded to the USB 3.2 Gen 2 (10Gbps) standard, making it much faster to transfer files off the camera. The USB socket can also, via an adapter, allow the camera to connect to an Ethernet LAN.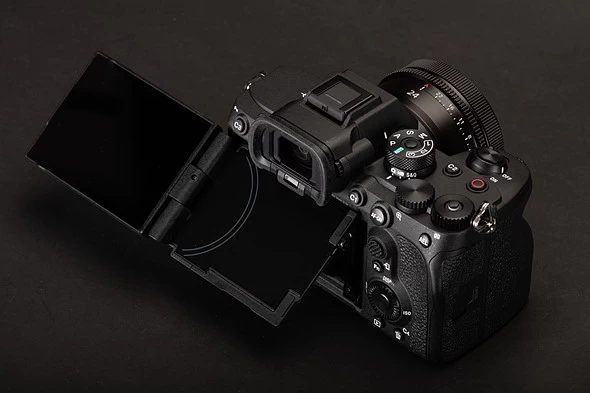 The biggest change, though, is the inclusion of a tilting cradle behind the fully-articulated rear screen. This means you can tilt the screen forward, out of the way of the mic and headphone ports before extening the articulating screen, or you can flip the screen outwards and just use it like a conventional tilting screen, if you prefer.
The a7R V's viewfinder has also been improved, compared with its predecessor. The finder optics increase the magnification to an impressive 0.9x and it now uses a 9.44M dot (2048 x 1536 pixel) OLED display. You'll need to engage the 'Display Quality: High' option to get the panel's full resolution when shooting, and the resolution will then drop as the camera focuses, but it gives a very good high-res view of the world. There's also a high 'Finder Frame Rate' option, but this locks the EVF to its standard res mode.
Card slots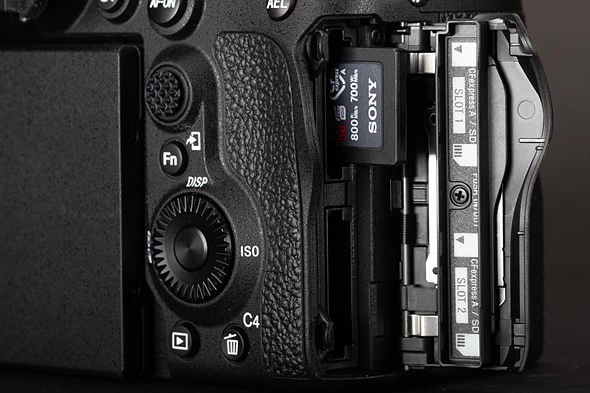 As with other recent Sony cameras, the a7R V has two dual-format card slots. These can accept either UHS-II SD cards or the small CFexpress Type A cards that only Sony currently uses. There are no modes or functions that demand the use of CFe cards on the a7R V but their faster write and read rates make the camera feel a little more rapid, especially when shooting at 10 fps.
Menus
The most obvious change with the Mark V is the use of Sony's new menu system, with options arranged as vertical tabs with sub-categories that expand to show sub-menus. We've found this to be a huge improvement over the older system, making it easier to anticipate where options can be found and much less need to memorize locations.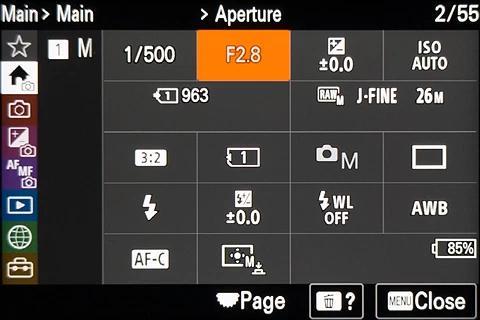 The a7R V also gains the interactive settings tab we first saw on the FX30. This displays all the camera's key settings on a page that lives near the top of the menu. The page is analogous to the 'Quik Navi' panel on early Alpha models, and exists as a sub-menu of a category called 'Main,' which makes it a little easy to accidentally navigate away from. In video mode this panel spills over to two pages.
As with previous Sony cameras there's also a Fn menu that can be customized with up to 12 options and separately configured for stills and video shooting. There's also a 'My Menu' tab at the very top left of the menus in which you can save all your most-used menu options, if you want fast access to a particular parameter.
Battery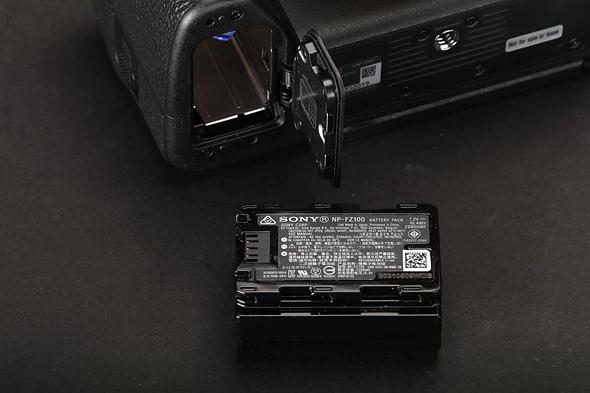 The a7R V uses the same NP-FZ100 battery as Mark III and newer a7 cameras. These are 16.4Wh batteries that power the a7R V to a rating of 530 shots per charge when using the rear screen or 440 shots per charge using the viewfinder.
As usual, numbers derived using the CIPA standard test tend to under-represent how many shots most people will actually get from the battery. We typically consider double the rated number to be a reasonable expectation and more than this if you shoot a lot of bursts.
The battery can be powered over USB, so long as there's a battery present. A powerful enough USB PD charger will allow the camera to charge while being operated.
---
Initial impressions
By Richard Butler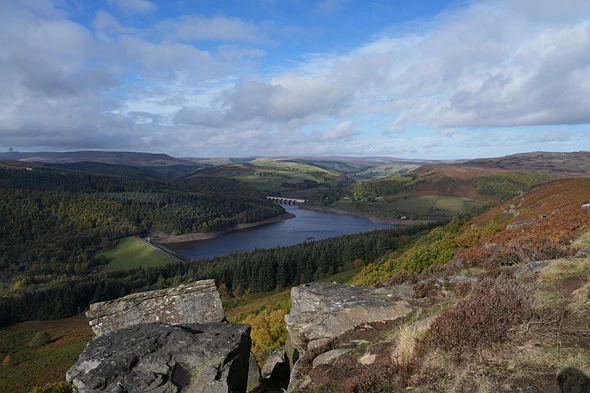 Even without the focus stacking or pixel shift modes, it's hard to argue with the a7R V's credentials as a landscape camera.
Sony FE 24-70mm F2.8 GM II @ 24mm | F14 | 1/100 sec | ISO 100
Photo: Richard Butler
It seems amazing that we're already on the fifth iteration of Sony's high-end, high-res full frame mirrorless camera, but here we are. The early models developed in leaps and bounds over their predecessors, gaining significant features such as image stabilization, and ever improving ergonomics, but as each model gets better, it's harder to maintain that degree of improvement.
Yet, despite the a7R IV already feeling like a pretty mature product, the a7R V does a decent job of expanding its capabilities. Improved AF, focus stacking, motion correction for high-res mode, adjustable Raw sizes, the list goes on. For many photographers, Sony's promise that it's better at focusing on the surface of the eye, rather than occasional eye-lash-focus, will be an appreciable improvement for such a high res camera.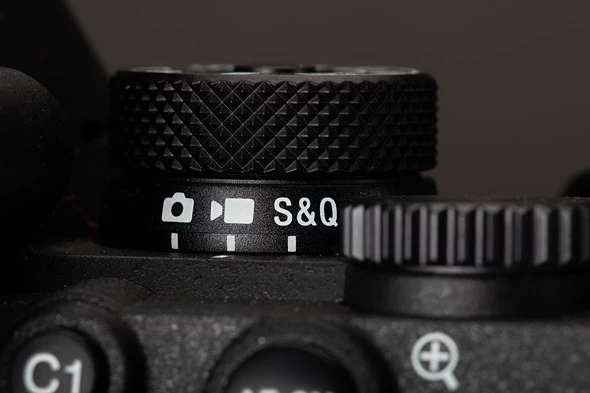 The movie/stills selector is borrowed from the a7 IV and the camera gains many of the options from the a7S and FX-series cameras, but significant rolling shutter means the a7R V is at its best with the switch set all the way to the left.
I've not tested the full extent of its features and capabilities yet, but this in itself has formed part of my impression of the camera. Whether it's the retention of separate exposure settings when a flash is attached, for wedding shooters going back and forth between indoor and natural light shots, or the focus stacking option for macro and product photographers or the newly-expanded video capabilities, it feels like there's something for everyone, and that makes it difficult to imagine any one photographer using all the camera's features.
I'm not saying it's a D850, which was a camera so polished that it was difficult to imagine how it could be improved upon (to the point where it felt like a monument to the DSLR era, even at launch), but it's difficult to look at the a7R V and point to areas in which it's significantly deficient. It offers plenty of resolution and DR, as the 'R' series always has, but provides support tools for a whole range of photographic niches. And, thanks to the revised menu system, it isn't completely overwhelmed by this level of complexity.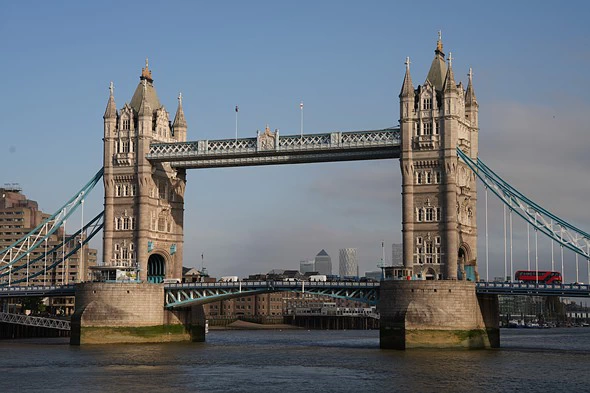 The a7R V isn't intended as a travel camera, but there are certainly occasions on which it would be useful to be able to re-convert the Raw files in-camera. Sony is the only major brand without such a function.
Sony FE 24-70mm F2.8 GM II @70mm | F8.0 | 1/320 sec | ISO 100
Photo: Richard Butler
The expanded AF capabilities are the feature I most want to put to the test, given Sony's promise of a 60% improvement in Eye-AF performance and the ability to recognize such a wide range of subjects. The number of configuration options for each of these makes me a little wary, but like many, I suspect it's only one or two subject types I'm likely to find myself needing to fine-tune.
The other thing I haven't yet got a sense for is how likeable a camera it's going to be. On paper it has everything it needs to give the EOS R5 a run for its money, but do its menus, ergonomics and performance come together to make it a camera that I want to take out and shoot? We'll find out in the coming weeks.
ที่มา : www.dpreview.com
In the Box
Sony a7R V Mirrorless Camera
Sony NP-FZ100 Rechargeable Lithium-Ion Battery (2280mAh)
Sony BC-QZ1 Battery Charger
Sony ALC-B1EM Body Cap for E-Mount Cameras
USB Type-C to Type-A Cable
Cable Protector
Shoulder Strap
Accessory Shoe Cap
Eyepiece Cup